Music: Susanna and the Magical Orchestra: Melody Mountain (2006)
This post continues my assessment of the best pop albums of this past year. So far I've noted some trends among my favorites: a return to thinking about music-making as the production of albums and the fashionability of male falsetto harmonics. I'm not sure what to make of the latter, but a lot of folks' favorites (like the Fleet Foxes) feature manly high-voices. Hmm.
Hercules and Love Affair: self-titled
The final track on this fantastic, intellectual dance record is an homage to the Muppets band, Dr. Teeth and Electric Mayhem. Need I say more? Well, I suppose so: this is a really interesting, upbeat-but-melancholic dance album that reminds one of the old acid/soul/house/electro-funk era (back when I was a high school clubber: think Inner City, Kyper, Egyptian Lover) with some slower grooves thrown in for variety. A number of tracks feature Anthony Hagerty (Antony and the Johnsons), like the opening "Free Will," overdubbed with a chorus of himself hitting some high notes at the end in desperation. Another track featuring Hagerty—one of my favorite vocalists these days—is "Bling," which features a Van Helden-esque disco-bass groove, brass riffs, and lots of tambourine. This album is super-queer in its sensibility, both danceable but earphone-on-the-plane friendly. You need it for your New Year's Eve party.
Aimee Mann: @#%&*! Smilers
Everyone usually has a superstar crush, and mine was Naomi Watts until I saw Mann perform this album live last fall and vowed to remove my right arm for a dinner and conversation with Aimee. When one sees a kick-ass show, it's tough to "hear" the album without evoking all those feelings one had at the show. Wow, this album is the best thing Mann has done since Bachelor, really smart (if not somewhat angry) lyrics backed by sweet melodies and harmonies. What makes this album stand out from the last two is the most excellent use of electronic elements to supplement the folk: some of the stripped down piano tracks like "Stranger Into Starman" go unaccompanied until, at the end, a mellotron (think the Moody Blues) chimes in. While a song or too ("Medicine Wheel") is perked up with a horn section, the bulk of the songs feature b3 organ or Moog sounds that really work well. The use of analog synths on this album is new for Mann, and it just gives the whole album a retro feel that is warm and sweet. The perfect album for another tear-jerky indie film.
Bon Iver: For Emma, Forever Ago
I've been to Eau Claire, Wisconsin a number of times. It's a beautiful, small Midwestern town with charming, craftsman style bungalows everywhere that looks pretty in the snow. Justin Vernon's band is named for the "good winters" that encourage songwriting indoors, I suppose. The media-hyped story of this album does actually help associate the right mood and adjectives to the songs on it: dude holed himself up in a cabin in northern Wisconsin and, many weeks later, out came this album. It was created by a gazillion vocal overdubs, which gives Vernon's frequently falsetto voice an eerie, choral quality that would be tough to produce any other way. The stand out track is unquestionably "Skinny Love" (hear here), which has been featured in some dramatic montage segments in television shows. The lyrics are pretty cryptic throughout the album (which I really, really like), and Vernon's explanation impressed me: he sang the melody first in nonsense syllables or humming, and once the song was written we went back and put words to the melodies. In other words, the feeling dictated the word. Of course, Sigur Ros and Cocteau Twins wrote this way as well, and you get the same sensibility on Bon Iver's album. This album is about emotion, sometimes intensive, much gentle and a thread of melancholy runs throughout. Love love love it.
Brothers and Sisters: Fortunately
This Austin-based band's second alt-country/folk rock album is such an improvement on the debut that the contrast alone is worthy of a thousand hand-claps. Formed by Will and Lily Courtney, Brothers and Sisters combines two familiar pop sounds that combine to something unique: West Coast pop and classic rock (Eagles, Beach Boys) and Texas alt-country twang. Will's unsteady, sometimes-talky, high-pitched male vocals blend well to sister Lily's harmonies. The feel of Fortunately is both sweet and exuberant, rowdy and constrained. The musical strength here is also built on the lyrics Will penned, especially on the stand-out track, "I Don't Rely," which begins with an "I got something I need to say/yeah, it's hard to explain/it never comes out the right way/But you, you give me hope/that one day I'll know/one day I won't know when you swear/But I don't reeeeeeeelllllllliiiiieeeeeee . . . . " Ok, that don't make much sense writing it out, but it works vocally very well and pretty much sums up my own perspective toward other people, especially the super-religious. This is a solid, well-written and cohesive alt-country/rock/pop album with a Mamas and Papas harmonic appeal, lots of twangy guitar and a sprinkle of power-chords.
Cut Copy: In Ghost Colors
The album begins with a wash of synth filters that sweep the listener into the first groove, "Hearts on Fire," my favorite 80s-style dance number (and the 12″ Joakim remix is stellar). A rumbling bass riff is accented by a heavily treated vocoder melody that goes something like "bah bah bah bah boo beep [repeat]" as the vocalist sings about getting him some in a relaxed, white-guy voice. The following track is an acoustic guitar driving number with electronic swooshes; the album alternates from purely dance numbers to pop (think of New Order's typical approach to an album) with a short ambient track every two songs or so. This is an amazing record that will hold its own in many years time (like the Underworld, New Order, and like bands).
Jesca Hoop: Kismet
Technically, Hoop's debut album was released in 2007, but this "sleeper" hasn't been receiving the attention it deserves until this year. My music-savvy buddy Eric Fuchs introduced me to this album back in March, and I've just been addicted ever since. Hoop has a sultry, grain-heavy voice that can sing high and low; the album is dripping with overdubbed self-harmonies that are goose-bump inspiring. The arrangements are sweet and upbeat, with an emphasis on polyrhythmic percussion and unusual background elements (spoons instead of tambourines, the crackling of a vinyl record; muted vibes with oboe flourishes). The stand out track is the rare sad one, "Love is All We Have," a strong, moving song about a widower who has lost his lover to the floods of Katrina:

The night before the night she came

katrina the hurricane

ohhh was calm

calm for a land untame

that spill the boarders of new orleans

ohhh was calm

the plow boys play their old favorite "the city's on parade"

on parade

but deep in the heart of

the ocean

their beds were made


love me now

now is all we have

love me now love is all we have


the rains that came

with the force of a runaway train

ohhh run away

and the waters rose and the levies the levies

broke

ohhh run away

and the cradle broke my beloved

the cradle broke

i must stay

for deep in the heart of our home

my beloved washed away


love me know now is all we have

love me now love is all we ever really had


You have to hear the song to really relate, but it's so very lovely. This is a smart, creative, different pop record by a future big, big, star. Remember when Sarah McLachlan started out she was doing weird goth/industrial music on the Nettwerk label? Well, Jesca's not that weird, but she is different . . . and very, very good.
Shearwater: Rook
Not to be outshone by the vocalist and key lyricist of former band Okervill River, Austinite Jonathan Meiburg finally released an album on his own with three buddies—actually, a bunch of albums if you count the first full-length and the EPs—and it is a melancholic melodic masterpiece. Meiburg's voice is somewhat reminiscent of Anthony Hagarty's, but also that of my favorite vocalist, Mark Hollis; he has a rich, frequently falsetto tone that also recalls the sustained notes of Roy Orbison. There are soft, piano-only folk reveries and songs that build to an operatic screamfest (the latter not often). This is a gentle, thoughtfully written album that is astonishing in its maturity (by which I mean restraint, and these guys could easily explode Mogwai style but thankfully do only twice) and grace. Emotionally rich and lyrically smart, it's an album that demands listening, and the kind of listening that, if paired with alcohol, can make you weepy. This album is simply outstanding.
Verve: Fourth
Although their last album, Urban Hymns, was hailed as their swan song masterpiece, the Verve's much anticipated return album frustrates expectations—and much to their credit. Instead of creating a radio-friendly pop-till-you-puke string of bittersweet symphonies, Richard Ashcroft and gang have returned to their early, debut sound and mixed it up with a few electronics, resulting in a number of long, fuzzy, psychedelic, guitar-driven grooves with plenty of lysergic room to get lost (tokers take note). The opening "sit and wonder" is a jazzy, funky, danceable rock song that folds you into the obvious (and brilliant) single, "Love is Noise," one of the best pop songs of the year. Full of yearning lyrics built on a loop of treated "ah-huh" vocals, "Love is Noise" brings to mind the best doom-mood-brood of U2 with a driving beat that delivers Ashcroft 's bluesy mood. Other songs veer toward the radio friendly, but it's notable nothing on the album is less than four minutes (most over five to six). This is an amazing record, and fans of the self-titled debut as well as the early druggy EPs will love how well gospel and R&B fold right into the psychedelics. I really had written off the Verve after Urban Hymns (which I confess I hated). This has a more friendly sensibility than the self-titled, but the wow-wow jamming and trippy effects on a number of the tracks brought me back to memories of getting stoned and dropping acid and listening to the Verve back in high school. While I've been drug free for, um . . . thirteen years (I'm not kidding), this music still makes my head all swirly. Yay: they're back!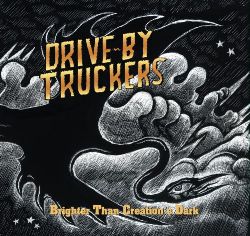 Drive By Truckers: Brighter Than Creation's Dark
Every now and again I will buy a record because of its cover in an attempt to introduce myself to new music. Most of the time this doesn't work, but every now and again there is an excellent pay off (I remember buying my first Skinny Puppy album this way). DBT's latest was on an endcap and on sale at Waterloo Records, and I liked the dark cover and the title and the juxtaposition of the band's name: "goth country," I thought. Although Brighter is far from goth, it does have a Southern Gothic feel throughout the album, yellow wallpaper and deals with the devil. To a moving, minor-key round of banjo, the opening track tells the story of a man who suddenly finds himself dead and at the gates of heaven, but missing his "two kids and beautiful wife." The rest of the album alternates among three vocalists, three songwriters, and three speeds: slow and ballady, medium and poppy, and rock your ass out. Lots of steel guitar, lots of pickin', lots of banjo, occasional keyboard. Like a lot of the music I like, a thread of melancholy weaves through many of the songs here (e.g., "Daddy Needs a Drink"), but the lyrics are often not personal expressions of the bandfolk, but stories. This album was on my radio non-stop for three weeks until . . . until I bought every album they had from the cut-out bin at Waterloo. Having gone back through their catalog, it's clear this is a new high for the bad. It's a long, contemplative album, less rock-ish and more on the ballads and melodies than albums past, but . . . if you've got a road trip, this is the album to tag along. You have to be open to "country" music, as some of this stuff is straight up country (though always with a rock edge). It's moody stuff, to be sure, but also just damn fine music that rarely makes it to the radio. My number-one album of the year.